Making of M1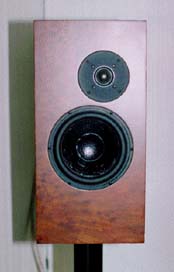 System Introduction
2-Way closed box speaker with Scan-speak units. This speaker system is designed for near field monitoring in small room("M" for M1 means Monitor) and for reproducing clear images. I selected closed box system. Though "M1" has restricted bass, It can deliver more articulate bass response than any other base-reflex system. In my room(about 20 square meter), It can play chamber music, jazz, pop with satisfaction.
Units
Woofer: Scan-speak 18W/8545 7" paper cone with carbon fiber
It's amazing mid-bass unit from Scan-speak. It has a sufficiently low bass response and makes me possible to make a closed box system. It's sound is very clear and wide in midrange but need some network technique to control some gentle bump (300-1000 Hz) in the midrange. This unit and some revised versions are used in many well known commercial speaker systems (Wilson WATT5, ProAc 2.5, etc.). The Thiele-Small parameter of specification and test results are listed in List 1.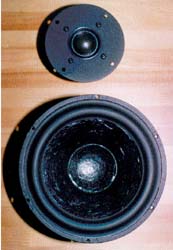 The driver units. Click for a larger version (99Kb).
Parameter
Sensitivity
(dB/1m 2.83V)
Free air
resonance
(Hz)
B x L
(Tm)
Moving
mass (g)
Qms
Qes
Qts
Vas
(Liter)
Listed
88
28
7.2
19
2.41
0.35
0.31
54
Measured
87.8
31.6
7.9
21.7
2.35
0.39
0.34
37.1
List 1. Thiele-Small parameter of woofer
Tweeter: Scan-speak D2905/9300 28mm soft dome
It's another amazing tweeter from Scan-speak. And It's updated version of the legendary D2905/9000. Though not cheap, I can say it has very high cost performance. It's dynamic range is beyond expectation for soft dome and well match with 18W/8545.
Cabinet
Cabinet drawing showing the front and side. Click for the whole drawing (12Kb)
I wished system Qtc around 0.577 (Bessel Alignment). This low Qtc can give very detailed response what I like. The optimum volume was 16 liter but I designed internal volume 20 liter and Qtc is measured 0.53. The network will raise Qtc somewhat.
Network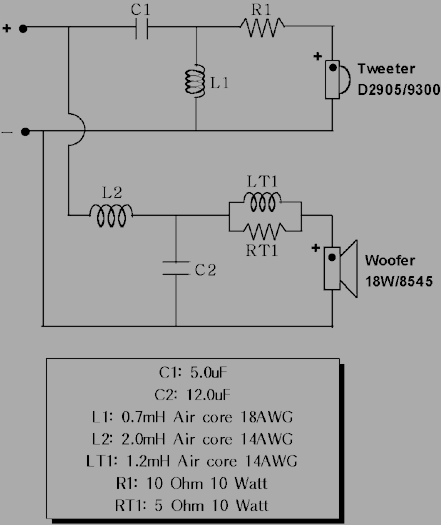 The crossover network
Here are some criteria for network design:
The simpler, the better. Only 8 elements are used. In tweeter signal path, single capacitor and resistor are used for pure sound.
Low crossover point (1800Hz). It can deliver a wide dispersion. But it need reliable tweeter such as D2905/9300.
Acoustically 4th. order Linkwitz-Riley filter slope around crossover point.
Picture of the crossover. Click for a larger version (81Kb).
Test Result
Anechoic response of system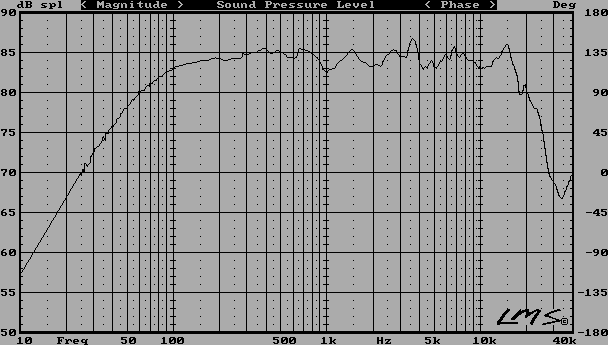 Sensitivity is around 84dB/2.83V and -6dB point in bass is about 47Hz. It is very satisfactory result for small speaker. It's bass roll-off is about -8dB/Oct. With room enforcement in bass, this speaker can reach down to 40Hz.
Impedance of system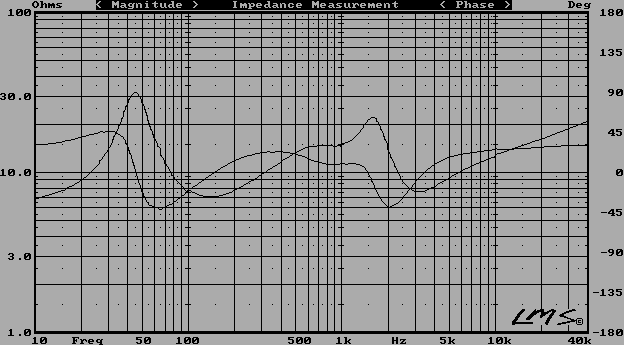 Minimum impedance is 7 Ohm and it's a very kind load for amp. No wrinkle in graph shows good restriction of cabinet vibration.
Anechoic response of each unit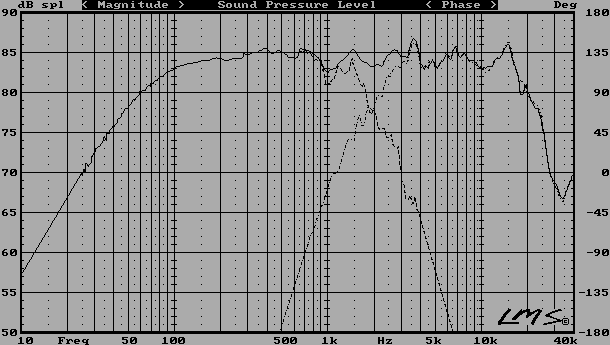 Anechoic response when tweeter polarity is reversed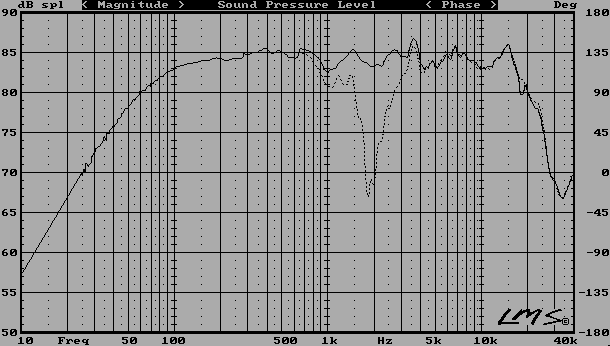 Well designed crossover must show steep dip at crossover point and M1 also shows steep dip.
Sound
For my experience, It need more than 2 weeks of burn-in. And It's bass improves dramatically during burn-in. It's sound is well balanced. It make me feel comfortable and I can't hear any booming sound in bass. Finishing my project, I sold my $2,000 speaker system.
Part List
Units

Tweeter Scan-speak D2905/9300: 2 ea.
Woofer Scan-speak 18W/8545: 2 ea.

Network

Capacitor

Cresendo 5.0 uF: 2 ea.
Zen (10+2uF): 2 ea.

Resistor

Ohmite 10.0 Ohm 10Watt: 2 ea.
Ohmite 5.0 Ohm 10Watt: 2ea.

Coil

North Creek Air-core 2mH 14AWG: 2 ea.
North Creek Air-core 1.2mH 14AWG: 2 ea.
North Creek Air-core 0.7mH 18AWG: 2 ea.

Miscellaneous

Dupon Dacron: 24 oz. (12 oz. per box)
Back cup: 2 ea.
Specification
System:
Closed box 2-Units 2-Way system
Drivers:
28mm soft dome tweeter (Scan-speak D2905-9300)
7" Paper cone with carbon fiber (Scan-speak 18W/8545)
Crossover Frequency:
1800 Hz
Sensitivity:
84 dB (1m/2.83V)
Impedance:
8 Ohm (Minimum 7 Ohm)
System Resonance:
47 Hz
Frequency range:
47 Hz - 20 KHz
System Damping:
0.53
Size:
470 x 230 x 350 mm (H x W x D)
Weight:
approximately 16Kg/each
Man-Sun Huh